Now that relaxation has become synonymous with bathrooms, it's only natural that makeover trends as of late mainly focus on turning this room of the home into one's own peaceful oasis, spa or sanctuary. Call it what you will of the three, to be able to achieve this result, there is a key element that requires your utmost attention: the bathtub. Since this bathroom element serves as a focal point and there are various designs at the stores, shopping for the ideal model requires careful consideration of the types and materials.
What Are the Types of Bathtubs?
Though this is more of an aesthetical aspect, there's a practical side to it too because the choice of bathtub you make also has to do with how you want the bathroom layout to be and how much space you can work with. For instance, if you want to have some free space around it from all sides, then you can narrow it down to a freestanding and clawfoot types, whereas corner and alcove are best left for installation against the walls, and then there's the in-between drop-in. Here are the various types of bathtubs you can choose from.
Freestanding
If you're up for more flexibility with where you want to have the tub in the room, this is the bathtub to go for. Of course, this means your bathroom should be big enough for you to be able to place it in the middle of the room if you see fit, and the good thing about it is it won't even cram the space.
On the contrary, it would make it seem bigger as it creates the impression of a more open and airy room. Moreover, it would give you the chance to show off your lovely bathroom tiles too, including the border tiles that make it a piece of cake to improve the bathroom decor. Just what you need for a bathroom in modern style!
Clawfoot
In case you're up for all of the aforementioned benefits plus vintage charm, then you shouldn't look further than this ultra-stylish type of bathtubs. As they've got sturdy feet, they're truly valuable investments thanks to the durability, and fans of long baths would appreciate models like the slipper because it's got a high back to support the neck and head as you soak up and relax.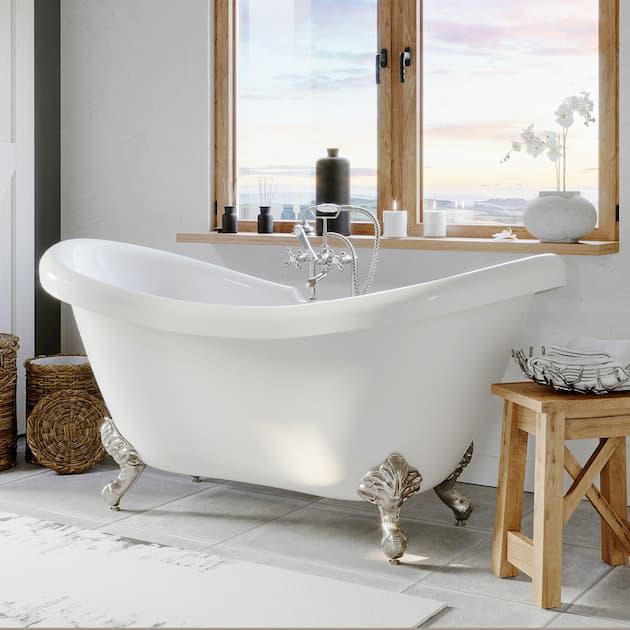 Drop-in
As you might guess, this type means the tub is dropped in, could be into a structure or frame that can be made to match the surrounding decor with tiles. Thanks to this, such tubs are perfect if you're up for reducing your cleaning chores at home as the exterior is covered up. Whether you want to fit them in the floor, or add them on a deck, it's up to you and your bathroom space – they truly are flexible. In addition, they're also affordable!
Corner
Now that living is becoming smaller, with home size diminishing more and more, it's not surprising this type of bathtub is growing in popularity. Since it can fill up a corner (let's face it, corners often get overlooked and unused!) it allows you to wisely use up the bathroom space so even a smaller bathroom can be transformed into a spa.
Not to mention, it provides you with the chance to also have a shower installed over it, perfect for those days when you're in need of a quick morning shower for a fresh start. Moreover, you'd count on a considerable seating area as well that you can use to store some of your bathroom toiletries and relaxation goods like essential oils to reap the benefits of aromatherapy for that spa-like feel. All this with maximum floor space!
Alcove
As a type of tub fitted between three walls, it's also known as recessed, and is trendy because you can fill up the space without actually affecting the bathroom much so it's ideal for small homes. What might be considered as a drawback is you'd have to fill in the space around it when fitting it in between the walls but don't worry, the benefits compensate for it.
You'd love the fact that such tubs aren't that costly, and if you want to have the chance to enjoy both baths and showers, you could easily have a shower installed. In case you want to protect the floor from spills and protect yourself from accidents post-shower, you could get a fancy bath screen that's far more low-maintenance and chic than a shower screen.
What Are the Popular Bathtub Materials?
Okay, now that we've covered the types of bathtub you can pick from, it's time to find out what the materials are so you'd be able to make a better and more detailed choice.
Acrylic
This option is among the most sought after because of its outstanding properties. Among them are: great heat retention, exactly what you need for long and relaxing baths, durability especially when reinforced with other materials like fibreglass and ease of repair. More on the plus side, you won't have to worry about mildew either.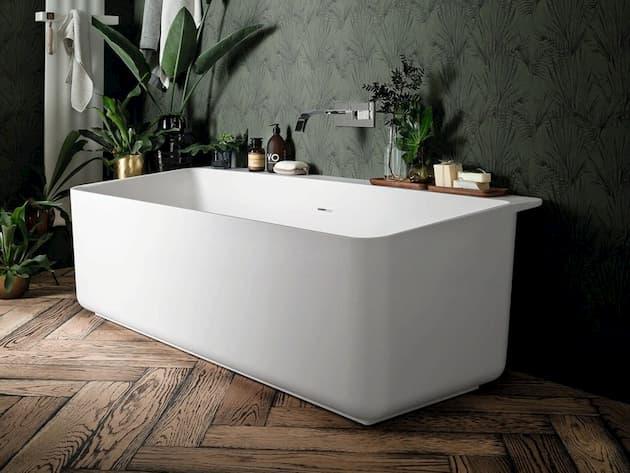 Enameled Steel
If you're on the lookout for that really easy to clean material, then this is it. As it's porcelain enamel on steel, it's relatively strong and durable, and it doesn't harbour or retain bacteria. Still, on the downside, it can be prone to chipping, and it's quite heavy when in the form of bathtubs besides not providing that many design options as acrylic.
Cast Iron
Perfect for that old charm feel, it's a material that's known for its strength and resistance to scratches and chips as well as heat retention. One of its flaws however is its weight, so it's not that easy to move around tubs made from this material. Furthermore, it's among the most expensive, and you might have to add extra supports in the bathroom to handle that weight.
Solid-Surface
As it's composed of polymeric materials, it's one of the options that offer a wide range of shapes, sizes, and colours. Though the finish can get damaged, it isn't that difficult to repair, and one of its main advantages is it's non-porous, however it can be somewhat expensive.
Stone
Some of the options of this natural material are sandstone, marble, travertine, granite and onyx. Though they are all very sturdy and stylish, they also pose difficulty with the weight and you might have to do some more maintenance to keep the stone in top form.