For centuries, candles are considered an auspicious symbol which symbolizes light, ignition, illumination and awakening. And so, what better decoration can be used to celebrate the festival of Christmas, which too symbolizes coming back to light.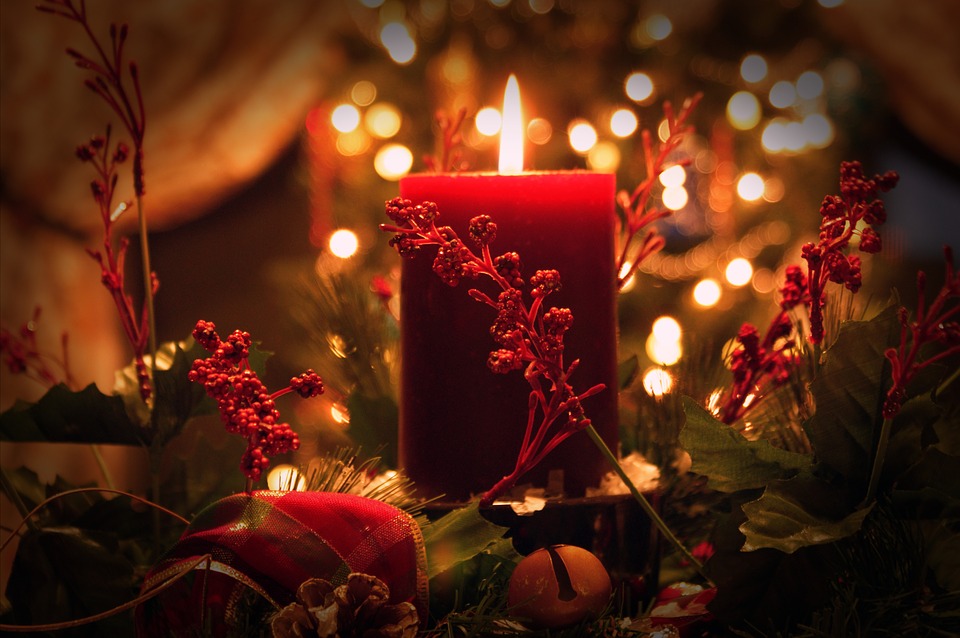 Of course, these days you will find all the glow-getting hi-tech lighting equipment for any and every occasion but can you compare a candle's flame to any of it. Think about it. Candles are contagious and breathing. Every other second, they melt themselves a little to make the flame of light stronger to you. Taking in consideration its uniqueness and significance, here are some innovative ideas to use candles for this year's Christmas celebration. Fill your home with the scents of Christmas this holiday with the candles and many products Decorator's Warehouse has to offer.
Lollipop Candles
Discover the schoolhouse style charm by placing colourful candles at your doorsteps or stairway. Or, you can keep a flat glass container on a table near the Christmas tree and fill it with little colourful candles. Peppermint candy candles look gorgeous too.
Farmhouse Style Candles
Sprinkle the incense of country style Christmas in your backyard or porch by spreading out a table and topping them with candles wrapped in cinnamon sticks.
Glass House Candles
Time to reutilize all those mason jars kept empty in your kitchen. Take out some of these mason jars. Fill them with baubles or marbles if you like. Then, place a candle inside each jar and light them up when the day settles. Surround the jars with spreadings of pine cones, greenery and stars.
Rose Cherry Delight Candles
There is something about red candles that arrests the eye in an inviting manner. Simple yet intense, red candles can add immediate delight to your Christmas decorations. To make them look even more interesting, you can cover the candles in green paper or faux greenery till half their height.
Inverted Glass Candles
Take some wine glasses, put them inverted upside down and place some small tea time candles in the hole cusps. For more decorative appeal, you can fill the bottom flasks with greenery or baubles. Just make sure to not overdo it as it might disturb the balance of the glass.
Snow White Candles
Simple yet charming. White candles look as gorgeous on a Christmas evening as they look in a candle light dinner. Stack them in candlestick holders or place them in transparent glasses to make them appealing to eyes. Garnish with ornaments of gold.
Fruity & Fabulous Candles
Not long lasting though, this idea looks magnificent when applied on a Christmas evening or in a Thanksgiving dinner. Take some fresh fruits such as apples or pineapples. Now using a fruit as the base, dig a candle in it just like a pillar. Arrange the fruits. If you do not want to scrap away the fruits, you can use faux fruits for this purpose. Another idea to maintain the fruity appeal is to take some plain candles and decorate them with greenery, cherries and Santa dolls.
Glitter Candles
Although these days readymade glitter candles are easily available in the market. If you wish to create your own setting, take some glass jars, containers, or wine glasses. Fill them with glitter and Christmas Ornaments. Now place a candle in each container, light them up and watch the glitters glitter!
Floating Candles
From fish bowls to glass planters to short-heighted glass jars, choose a suitable container to keep the floating candles. Fill it with water, green leaves, berries and waterproof beads before placing the candle. 
Rustic Nut Candles
Place some off-white shaded candles on a shelf or tabletop; surround it with greens and nuts. Walnuts and pine nuts are perfect choices. Even more so, you can use this setting on your dining table as well. Bonus to guests, nut brownies and chocolate cakes. For a more rustic feel to it, sprinkle the tabletop with wooden baubles and ornaments in shades of brown or gold.
Electric & Neon Candles
An excellent idea for last minute Christmas decoration. If you cannot go for wax candles, try this instead. Create a trellis on your door, plug some candlesticks and perch some electric candles inside. Another wonderful variation of this is a wall sconce style candle holder. The best part of it is, you can attach this sconce with your door handles, porch pillars and walls too.  
Wrapping Up
The best part of using candles as the central Christmas decoration is, they can complement nearly any space, nook or top. So, what kind of candles you are planning to use this Christmas. Thought of it yet?