St. Petersburg at the mouth of River Neva has quite a distinct feeling, as anyone who's visited this city will tell you. We all love food and as this is probably something we all like to travel for here are the top 5 things (opinions may vary of course) to do for a foodie weekend in St. Petersburg the moment you arrive there. Our recommendations try to blend in a few high-end restaurants and places for traditional food, so no matter what kind of budget you're on you'll be good to go.
Masha and Bear
Masha and Bear is a typical Russian restaurant with very friendly staff and warm atmosphere. It is a fantastic place to enjoy a wide variety of both traditional and modern foods and drinks, as well as have fun in the process. You will have a chance to be served authentic traditional Russian cuisine including also hot Italian sandwich and low-fat diet foods. The place is ideal if you are on a tight budget but still want something super tasty.
Chekhov
This restaurant is found inside a building which is built on the northbound precincts of Petrograd Island. It is a charming place operated by a Russian family. It is popular among the local residents and foreigners alike. If you want traditional Russian recipes from the 19th century, Chekhov is the perfect place to dine in. If you want to experience a true feeling about Russia, the restaurant's warmth and hospitality is all you need.
Photo: Creative Commons
Gogol
Gogol is a loving restaurant with great traditional Russian foods served by welcoming staff in a friendly atmosphere. This place was named after Nikolai Gogol, one of the greatest writers in Russian history. It features a rather historical ambience as a result of some old-fashioned decorative setting. Here, you will also get an opportunity to enjoy classical Russian music playing in the background. The menu includes hand-made pelmeni, Siberian whitefish, Russian dumplings and much more.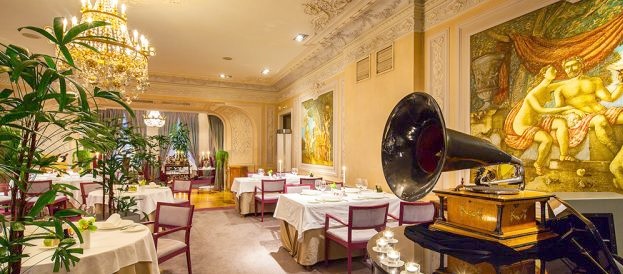 Cococo
Cococo is a lovely modern restaurant with tasty and delicious Russian foods. The restaurant is one of the most innovative in St Petersburg. It offers traditional Russian recipes which have been pimped into modern vibrant dishes using local ingredients. From traditional to modern day dishes, the Chef in this restaurant will surely delight your appetite, proper soul food to be found here. There is also a separate area for those who want to simply wind down and sit and enjoy a few drinks at the bar.
Tsar
Tsar is s high-end restaurant with an imperial atmosphere, tasty and delicious Russian cuisine and friendly staff. The atmosphere of this place will make you feel like you are at home away from home. Some of the traditional Russian cuisines you will find in this place also include Russian dumplings and Siberian whitefish cooked to perfection and with a twist on the traditional recipes found elsewhere.
Book your stay at the Corinthia Hotel.