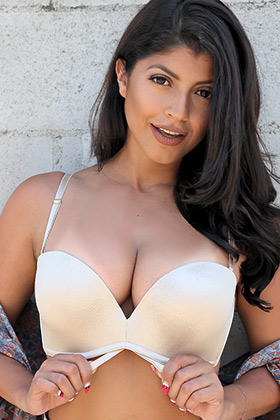 Finding a bra that is comfortable, fits well, AND makes your cleavage look fantastic can seem like an impossible task. I can't tell you how many times I've gone into a store looking for a bra only to try on countless sizes and styles and be disappointed at how none of them are right. That's why I was so excited when I found the UpbraⓇ, the bra that will give you cleavage and lift that you never thought could be possible.
What I loved about the Upbra is that it was super supportive, and actually stayed up all day even when I wore it strapless. The bra has specially formulated vinyl hearts on the inside of the bra cups to grip your breasts and support them all day. But I think my favorite thing about the Upbra was that it gives you complete control over your cleavage. You simply pull on the cleavage control straps to your desired cleavage level and hook secure them into the notches along the inside of the band to move your breasts inward and upward for natural, amazing cleavage. Pull a little for a more everyday look or pull a lot for a more glammed up, rockstar look. This makes the bra incredibly versatile for both day and night looks, making it well worth the money!
The Upbra is great for smaller breasts thanks to the unique Active LiftⓇ technology in the cups that gives you cleavage you never thought possible. But it's also great for larger breasts because it can provide lift and support unlike any other push up bra. I love how Upbra is the perfect option for both smaller and larger cup sizes, it is so hard to find bras that can give both cleavage and lift! I also found the bra to be incredibly comfortable, I wore it all day without any issues or even noticing that I still had it on!
Upbra makes comfort and the perfect fit their priority, and they know how confusing bra sizes can be and that most women aren't wearing their actual size! I tried out their Mobile Bra Size Calculator and found it to be super easy to find my true size, no silly questionnaires or measuring tape required. Completely free and easy to use and guaranteed to find you your perfect size.
If you're looking for the perfect bra that will give you complete cleavage control and provide all day lift and comfort, I highly recommend giving the Upbra a try, I promise you won't regret it!