There was a time when nutritionists believed people should toss the egg yolk away for fear that its consumption was causing high blood cholesterol levels. This myth has since been debunked as scientists proved consuming great amounts of refined sugars and trans fats were the real culprits.  In fact, most of the vitamins, minerals, and micronutrients in an egg come from the yolk. Ideally, you will make use of recipes that incorporate both the whites and the yolk.
Furthermore, eating whole eggs can help with weight loss, so for those of you working to get fit – listen up. One large egg contains as little as 70 calories – fry up to three eggs with a generous helping of vegetables and you get a full meal that comes in at under 400 calories. Whole eggs will also help you to feel more full, and because they are high in protein, they will curb your appetite so you'll be less hungry over the course of the day.
Omelettes are a popular way to get those eggs into your first meal. For healthy frying – use olive oil instead of butter or bacon fat. Omelettes are also extremely adaptable to anyone's taste – but for the person looking to eat healthier – using veggies and lean meat is recommended.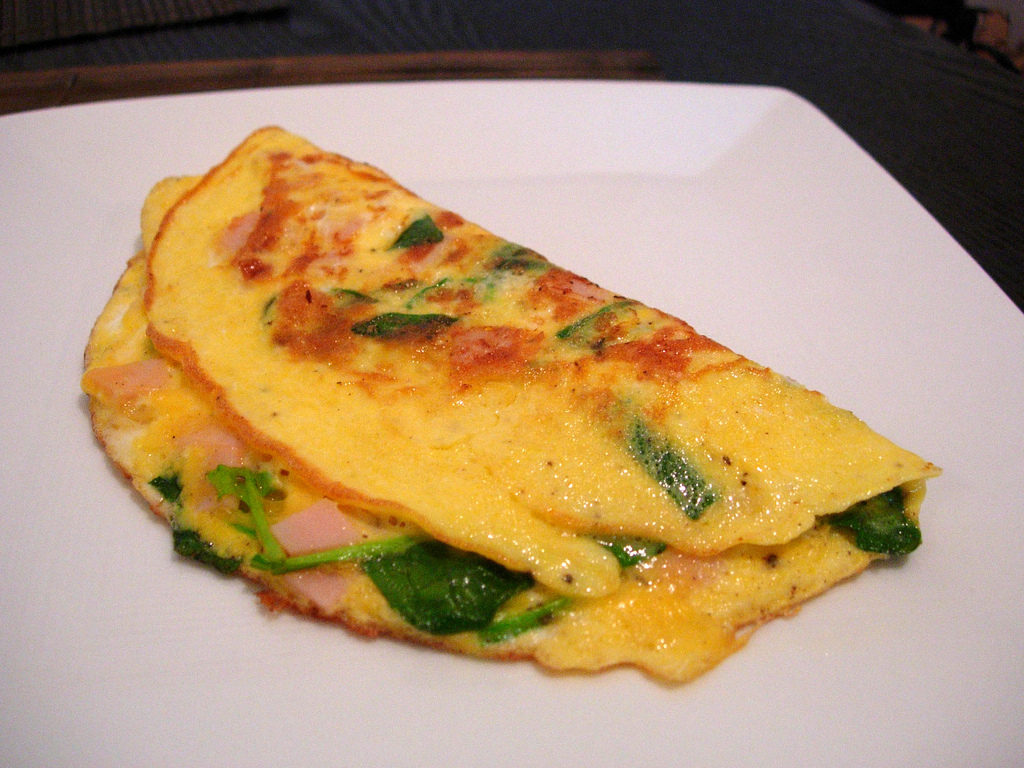 This Mexican Fiesta Omelette recipe found at Getcracking.ca makes for a perfect balance of fibre and filling; it will start your day off with a spicy kick and keep you energized through the entire day. In a medium bowl, beat eggs with milk, one tablespoon of coriander, salt and pepper. Then in an 8-inch, non-stick skillet, heat oil over medium-high heat. Add onion, peppers and chili powder – stirring occasionally until they become soft (it will take about three minutes). Next, add chicken and black beans, stirring until they are heated through. Then, add two tablespoons of coriander to the mixture and remove it from the heat.
Next, wipe the skillet clean, adding one teaspoon of butter (or olive oil if you're taking the healthier route). Melt it over medium heat until it foams, but before it browns – pour in one-half of the egg mixture, rotating the pan to spread the mixture.  Here is where the art of making an omelette comes into play – it takes some concentration. Cook until the eggs are almost set, gently lifting the edge with your spatula to allow uncooked eggs to flow underneath.
Spoon about half of the filling onto half of the omelette, with the option to add a quarter cup of cheese here, or not for those watching their figure. Fold the uncovered half over the filling; cooking for just a minute. You can serve with salsa or freshly made guacamole! This recipe can be easily altered for vegetarians by removing the meat, or you can remove the beans if you're watching your starch.
There's no reason for you not to enjoy the benefits of a whole egg, even if you are introducing some restrictions into your diet for health reasons. Between providing you with essential nutrients like protein, vitamins and healthy fats – you can't go wrong with an omelette, providing you get that spatula technique just right!