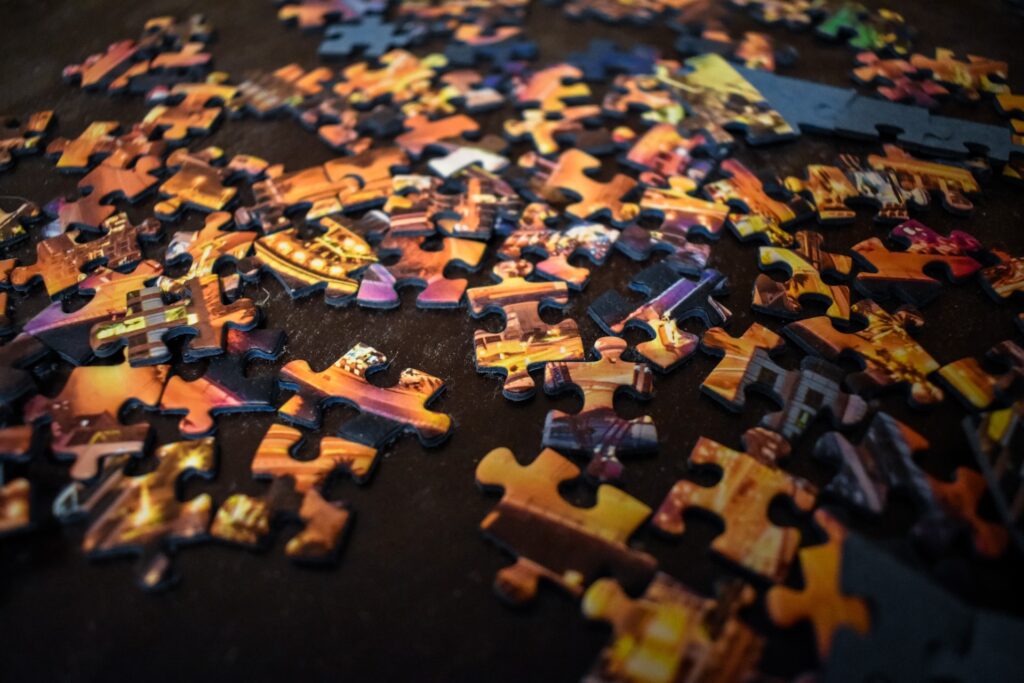 Children love puzzles as they entertain and stimulate their brains. Solving gives a sense of accomplishment and improves the kids' memory power. However, to get the best out of puzzles, it is integral to select the right puzzle. 
If you pick out the wrong puzzle, your child might not enjoy solving them. Or worse, they will hate the experience and refuse to try doing a puzzle again. 
Imagine asking your 2-year-old to solve a 100-piece jigsaw puzzle. The kid will get bored and annoyed as little ones of this age don't have that many cognitive skills or patience to complete such a challenging task.
Finding the right difficulty level is the key to choosing an appropriate puzzle for a child at any age. But how to select the proper puzzle? Should you choose a 28-piece puzzle? Or do 16 pieces of a puzzle suit you better? Will a simple theme work? What about the topic? With the hundreds of options available, choosing the right jigsaw puzzle is not easy.
Fret not; below are some tips to consider that will narrow your search to selecting the right puzzle for your little hero.
Puzzles for six months to 1-Year-Old
You need not wait for kids to grow up to gift them puzzles. Today, we have simple puzzle toys for babies around six months of age or when they can sit up on their own.
The best puzzle games for these kids are inset-style puzzles. These puzzles have very few pieces, and they are large and chunky. Also, these puzzles come in attractive designs. 
Knob puzzles are the most appropriate option for kids this age. Popular themes for baby puzzles include animals, geometric shapes, and transportation. Wood can be the ideal puzzle material for such groups, so they don't try to chew them.
Puzzles for Toddlers up to 3 years 
Babies of 1 to 3 years old can easily switch to jigsaw puzzles and start working with 5-16 piece puzzles comprising large pieces. Also, ensure you select simple and easy puzzles to keep them entertained. In addition, try to choose puzzles with high contrast and attractive designs. Select Puzzles with academically relatable topics such as animal names, houses, object names, or fruit names. Other subjects like trucks, boats, and aeroplanes are also well-loved. 
Puzzles for Preschoolers (3-5 Years Old)
By the age of 3, children can solve tough challenge puzzles of up 24 to 48-pieces of moderate size. High-contrast images with lots of bright colours and clearly outlined figures are mostly preferred at this stage. 
Both floor and frame jigsaw puzzles are great for kids aged three to five. When selecting the theme, preschoolers mostly admire animal-themed or cartoon puzzles. Some other good subjects include aeroplanes, mythical creatures such as dragons and unicorns, dinosaurs, and outer space. 
However, it entirely depends on the kid. Speak to them and ask them to choose the design that fascinates them the most.
Puzzles for Early Elementary Students 
10-year-old kids can solve 180-piece puzzles with fairly small pieces. As they have already solved 80-120 piece puzzles, it's time to increase the difficulty level. When selecting the puzzle for early elementary kids, prefer lower contrast, themes like grass, sky, or water, providing an appropriate difficulty level.
Some kids also prefer outer space, dinosaurs, animals and their habitats, the ocean, and tough cartoon characters. Irregularly shaped puzzles can add excitement and challenge for children in this age group. However, depending on their experience and interest, eight-year-olds can solve puzzles of 260 and even 500 pieces.
Puzzles for 8-11 Years Old kids
At this age, kids can typically start solving 200-piece puzzles. Preferred themes differ from kid to kid. Some would prefer works of art, landscapes, and intricate designs, whereas others love space or aircraft. In addition to finding the theme of a child's interests, offer your kids a diverse array of difficult puzzles. Try to boost motivation to solve tough puzzles with irregularly shaped and challenging themes.
Choosing the right puzzle for your kid – 
When choosing the puzzle, consider your child's abilities and interests. Know what type of images they find attractive and why they would interest them. Remember to contemplate details like the material, number, size, and puzzle type to choose the most appropriate option. 
When considering these factors, selecting the ideal puzzle for your kid will be easy. Watch them engage with these educational toys and learn essential life skills such as problem-solving and concentration. One carefully chosen puzzle can afford your little one hours of fun and learning.