Las Vegas is known as "Sin City". It was once a city of burlesque shows, quiet mob schemes and remains a prime gambling destination. There is more to Las Vegas than the bright lights, slot machines and poker tables. Use Hipmunk's Guide to Las Vegas to help find hot attractions, concerts, featured restaurants and other entertainment throughout the city.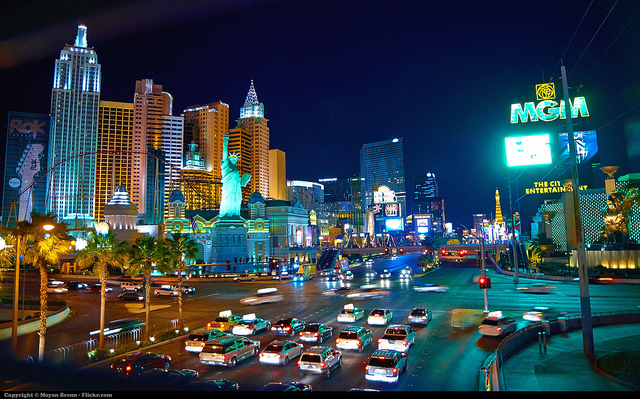 Freemont Street
Freemont Street is known as the "Old Las Vegas Strip". The Golden Nugget and Four Queens casinos are in the heart of the "Freemont Street Experience". This area is one of the hot spots for finding cheap eats in the city that never sleeps. Overhead there is a zip line that slides above those walking and performing on the street below. This street is actually covered. The ceiling spans the distance of 500-yards with visual aquarium scenes and visual lighting displays.
History Channel Television Show Businesses
Several Las Vegas businesses have television shows on the History Channel. American Restoration is one business where vintage items are restored to their original, brand new condition. Count's Kustoms, featured on Counting Cars, is just a few miles from the strip. Tours of the owner's car collection are available.
Gold and Silver Pawn Shop is featured on Pawn Stars. Several local businesses such as a collectible toy shop, historical society members, gun shop experts and art experts frequent this location to provide information and appraisals on items that customers bring in.
Museums 
The Shelby Mustang museum is located in Las Vegas. It is the home of the first, and original, Shelby mustang. The Natural History Museum is located in the cultural corridor of the city. It has exhibits and displays featuring items of historical importance telling the story of how Las Vegas came to be.
Over 200 classic pinball machines are on display at the Pinball Hall of Fame. Most of the machines do have power to them but are for viewing and not use.
The city is situated in Clark County. The Clark County Museum has a gift shop for guests to purchase souvenirs reminiscent of Las Vegas culture. Also within this museum are railway exhibits, ghost town exhibits and several tours of barns, mining trails and locations of interest.
Off the Strip Entertainment
Off the strip and about an hour from Las Vegas is the Hoover Dam. On the way to the Hoover Dam guests can stop off in Henderson, Nevada and take in the views from mountain ranges while having a meal at a local favorite hot spot.
If traveling too far from Vegas is not an option, a short drive will take you to a Red Skelton Tribute Show or Death Valley Tour. Death Valley is one of the hottest places on earth and, for your safety, scheduling with a tour company for an assisted tour is the best option.
Other off the strip activities include visiting Area 51, a visit to the Grand Canyon or taking a drive down historic Route 66.
One of the most difficult decisions to make in Las Vegas is what to do each day because there are literally thousands of options. Families on vacation can visit local parks and casinos like Circus Circus that have an area just for kids to play in. It is a bonus if there is room in the budget to visit a celebrity chef's restaurant for a meal. Gordon Ramsay, Bobby Flay, and Wolfgang Puck are just some of the celebrity chefs with acclaimed restaurants tucked inside prestigious casinos in Las Vegas.
This article was contributed by Fiona Moriarty of Hipmunk, the most comprehensive travel search website allowing you to find the best deals on anything from flights and hotels to train rides and Homeaway rentals.