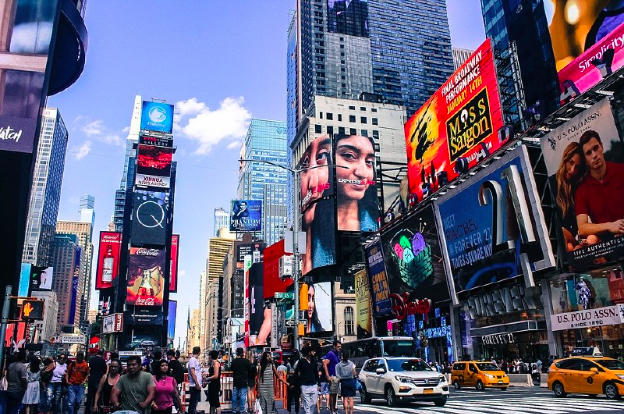 New York is a dream destination for many travelers. Whether you want to get lost in a crowd or whether you love the high-end museums and luxurious atmosphere, it is certainly at the top of your bucket list for a unique reason. However, New York City is a major city that generates a lot of foot traffic. It is too easy to get lost in the lux nature that you make mistakes that could cost you your safety, or limit your view.
Right Out of The Gate
When you fly into New York, chances are you'll came into Newark International, JFK Airport, or LaGuardia. Do not take any unmarked taxis into the city, as this is a common scam – or worse – for tourists new to the area. It is also best that you do not carry too much luggage with you – carrying valuables, even those that are not obvious, can make you a target for thieves. At the hotel, keep these valuables in a safe and do not answer the door if you aren't sure who is coming
Avoid Taking a Taxi
In the movies, everyone seems to take a taxi around New York City. They are depicted as being great in a pinch, and you can always hail a taxi when you're late. However, this could not be further from the truth: they are an expensive mode of transportation, and they get stuck in traffic like everyone else.
If you want an inexpensive way to get around, take the Subway. Once you've familiarized yourself with the city, you can easily use public transportation to travel around New York City. You can also call an Uber, which are dramatically more affordable than a classic yellow taxi.
Visit All Five Boroughs
Manhattan, Central Park and the Empire State Building are not the only attractions worth visiting in the City. The other four boroughs – Brooklyn, Queens, Staten Island, and the Bronx – have their own culture, landmarks, and lush parks. Staying solely in Manhattan means that you can never really know what this beautiful steel city is all about. Still, you do need to pop into Central Park – Central Park tours New York City are a great way to see this iconic playground.
Don't Block the Sidewalks
In New York, the sidewalk is equivalent to taking the highway. While you drive, you wouldn't simply stop in the middle of the road to check whether you are headed in the right direction. In NYC, make sure to step to the side if you want to stop. Worst of all, stopping makes you look even more like a tourist – and this can make you a target.
More than Broadway
Do not limit yourself to only high-priced Broadway shows. While they are expensive for a reason, the talented productions speak for themselves, New York has more than just famous talented. Off Broadway shows, and even Off Off-Broadway, can showcase those hidden gems that New York City is so well known for. Try visiting the Public Theater, the New York Theatre Workshop, or Playwrights Horizons for a unique experience.
There is much to see in the city of steel: enjoy each stop on the way. From avoiding costly taxis to seeing very cultural corner of the city, New York City will ensure that you come back time and again. You are likely to find something new each time you visit.