Decking out the home with glass furniture has always been a popular option. Having some furniture about the place that features glass adds a touch of class to any home, whether it be a coffee table, dining table, a cabinet in the living room, mirrors and more. Glass is classic and timeless in its appearance and it's generally quite easy to maintain to keep it looking beautiful.
With this in mind, let's look at a few dos and don'ts when it comes to looking after, cleaning and maintaining your glass furniture.
Do Always Clean Your Glass Surfaces Regularly
Most of the time, the surface of glass furniture may need nothing more than to have the dust wiped off with a soft, dry cloth. If the surface has fingerprints on it, spills or other matter, then even a soft cloth dampened with water will usually be more than enough. If you want to give the surface polish, try spraying it with a mixture of white vinegar and water and buffing it with a soft cloth or quality paper towel.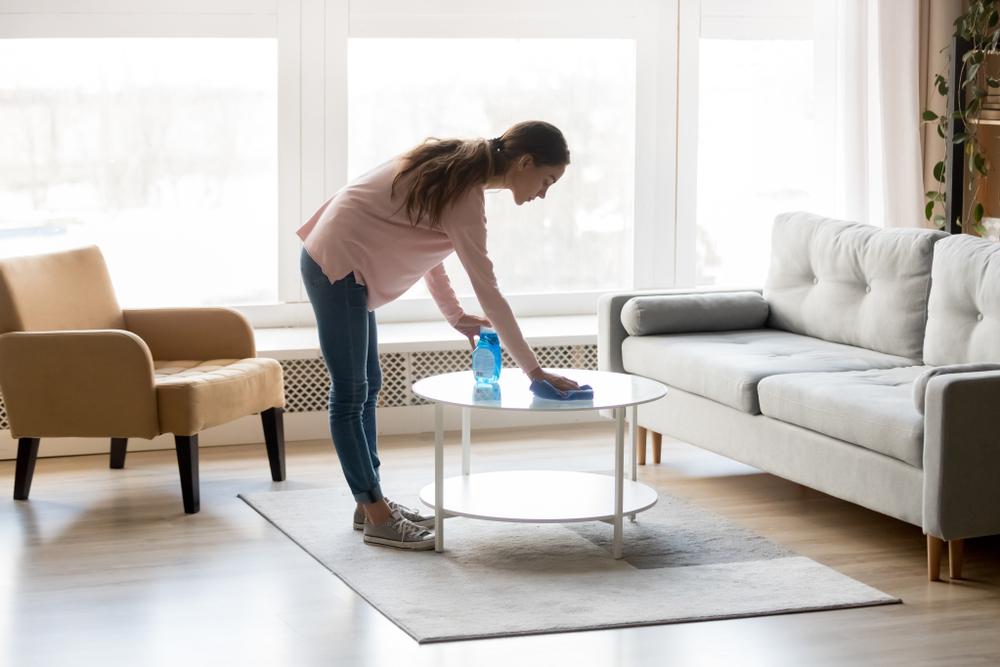 Don't Use Harsh Chemicals To Clean Glass
Whether it's your glass furniture or anywhere else in the home, there is glass; it's wise to avoid using harsh chemicals to clean the surfaces. Many window cleaners contain chemicals that can degrade the glass over time and leave the appearance somewhat smeared. Also, avoid exposing that glass furniture to bleach and don't use things like kitchen scourers to clean debris from a glass tabletop. If there is a stubborn stain, allow some warm water to soak into it first to soften it up, or apply a paste of water and baking soda.
Do Always Protect the Surfaces of Glass Tables
While glass looks stunning and classic and generally reasonably robust when taken care of, horizontal glass surfaces – such as a dining table or coffee table – can be prone to chipping and scratching.
Rather than placing items directly on the surface of the glass tabletop, always use something to protect the surface, such as cork or cardboard coasters for glasses and coffee mugs and place mats when placing plates and bowls of food on the table.
If you want to decorate the glass tabletop with a plant, vase of flowers or some other decoration, be sure to place something beneath it to protect the integrity of the glass.
Don't Place Heavy Weight On Glass Furniture
It's only common sense, but nobody should ever attempt to sit or stand on top of glass furniture surfaces. While many tabletops are quite strong, they're not designed to support heavyweight.
The same goes for various objects around the home. Never place anything heavy on the glass surface.
Do Protect Your Furniture With EnduroShield Glass Treatment
If you genuinely value your glass furniture and want to give it the ultimate in protection, then consider calling in an Enduroshield Professional to protect your glass surfaces. The EnduroShield application chemically bonds to the surface of the glass and makes it resistant to staining, scratching, corrosion and damage in general. It's also completely invisible and won't alter the appearance of the glass surface.
This coating also has properties to repel both water and oil, allowing for easy cleaning and far less chance of the glass surface becoming marred or stained.
An EnduroShield professional can treat all glass surfaces inside and outside the home, as well as your precious glass furniture.
Don't Use a Glass Tabletop As a Chopping Surface
Chopping up vegetables with a sharp blade on top of a glass tabletop can only lead to one result: Scratching of the glass.
There's never any need or occasion to use a glass tabletop as a chopping board. Chopping boards are readily available from most supermarkets at prices far cheaper than the cost of a glass dining table or coffee table. Save the food prep for the kitchen bench and the chopping board.
In Conclusion
If you follow a few simple steps to clean, maintain and generally look after your glass furniture, there's no reason you won't be enjoying it for many years to come.